Paycheck Protection Program (PPP) Loan Forgiveness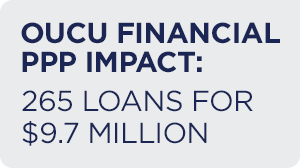 The PPP has undergone many changes and updates since its initial announcement in March 2020. This has caused confusion for program participants. Understanding your forgiveness options is an important part of realizing the benefits of this program. Requirements for loan forgiveness include:
Funds used for payroll costs, rent, utilities, and interest on mortgages
Minimum 60% of funds must be used for payroll
While funds are in use, employers must attempt in good faith to maintain similar levels of employment and pay that they had prior to the pandemic
New forgiveness applications were released on July 30, 2021. These updated forms are available for download below and are required for any forgiveness request filed after the release date.

The PPP and Economic Injury Disaster Advance (EIDL)
If you received funds from an EIDL advance as well as the PPP, be sure to include the EIDL advance amount and application number on your PPP forgiveness application.
Applying for Loan Forgiveness
To receive loan forgiveness, borrowers need to submit a forgiveness application within 10 months of the expiration of the coverage period. Choosing the method to file for forgiveness that's right for your business will depend on the size of your loan, number of employees, and other factors.
Incomplete or incorrect applications cannot be submitted to the SBA for processing and will result in a delay of your loan forgiveness. Please carefully review the instructions and attestations included for each application so that your request can be processed as quickly as possible. Borrowers can receive live customer support from the U.S. Small Business Administration (SBA) by calling (877) 552-2692.
Direct Forgiveness Portal
For loans of $150,000 or less, this portal, available through the SBA, allows you to complete your application in less than five minutes. Access the online portal below and follow the instructions provided.
Simplified Application Form 3508S
For loans of $150,000 or less, this application requires fewer calculations and less documentation. Some payroll and non-payroll documentation is required.
Application Submit Application
Updated on 8/3/2021
EZ Application Form 3508EZ
This application does not require the borrower to complete a Schedule A form, but it does require some calculations as well as payroll and non-payroll documentation.
Certain businesses are automatically eligible to use the 3508EZ form. These include sole proprietorships, independent contractors, and self-employed individuals that did not include any employee salaries in their calculation for average monthly payroll on their borrower application form.
Application Submit Application
Updated on 8/3/2021
Regular Form 3508
Borrowers who do not meet the requirements for the 3508S or 3508EZ forms will use this form. While this form will be more time consuming, receiving forgiveness of your loan can make it worth the effort.
Application Submit Application
Updated on 8/3/2021
PPP Forgiveness Application Consultations
From choosing forms to FTE calculations, the forgiveness process can be complicated. Our Financial Services Tax and Accounting department can provide consultations to help businesses complete the forgiveness application. Consultations include:
Engagement agreement that outlines the scope of assistance (as required by the American Institute of Certified Public Accountants and Ohio Accountancy Board)
Detailed review that may increase the amount eligible for forgiveness
Reduced rate of $75 per hour (total cost estimated at $300)
For more information or to schedule an appointment for a consultation, please contact tax@oucu.org, (740) 597-2820, or schedule online.
As the lender responsible for reviewing and certifying submissions, OUCU's Member Business department is unable to assist with completion of the application.
Special Considerations for Self-Employed Individuals
For borrowers who file the Schedule C or Schedule F, amounts eligible for forgiveness are determined by a special set of calculations. This amount is 2.5/12 of the 2019 net profits as reported on IRS Form 1040 Schedule C line 31 or 2019 net farm profits as reported on IRS Form 1040 Schedule F line 34. Costs for health insurance or retirement that are not paid out of net self-employment income are not eligible for additional loan forgiveness, neither are state or local taxes. If the borrower did not submit their 2019 IRS Form 1040 Schedule C (or F) to the lender with the initial application, it must be included with the borrower's forgiveness application
Processing Forgiveness Applications
Once you've submitted your application and supplied all required documentation, OUCU will review it to make sure it's complete before we can submit it to the SBA. Including all your required documentation with your initial application can help us process your loan more quickly. Be sure to review the required documentation for your application. If you're unsure what documentation is required, your Business Services representative will be happy to provide you with additional information.
We know how important this program is for your business. Our team will work to process your application as quickly as possible. The program allows OUCU 60 days after receiving a completed application to submit it to the SBA. The SBA has 90 days after submission to determine forgiveness eligibility. Once you submit your application, no loan payments are required until a forgiveness determination has been made.
Your Business Services Team
OUCU is proud to provide assistance to local business through this program. Please feel free to contact us at business@oucu.org or (740) 447-5202
.