Classroom Resources
We believe teaching students money skills will help them have a better tomorrow!
We're committed to supporting youth financial literacy programs. All programs and materials are FREE.
Preschool
Thrive by Five is a series of lessons and activities to help teach money basics to small children. It's a great teaching tool for parents, home school, pre-school and kindergarten classrooms
Grades 4-6
FETCH (Financial Education Teaches Children Healthy Habits) is a fun, interactive board game that teaches kids basic financial literacy. Guided by credit union staff, students form competitive teams for an adventure through a dog park where they must purchase items for their dog and save as much money as possible, while encountering a mixture of risks and rewards along the way.
Great Minds Think: A Guide to Money is a financial literacy activity book to help teach the basic concepts of financial decision making about earning, budgeting, spending and saving money! It can also be sent home to show parents how to start a conversation about financial responsibility.
Grades 7- 12
Banzai Teen is online financial literacy program geared toward grades 7-12. This fun, flexible and realistic program features a fun game - to win you have to save enough money to register for college! Teachers can set the pace for program completion visit http://oucu.teachbanzai.com. Credit union staff can supplement the program with a classroom discussion.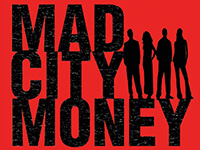 Mad City Money Program is a 2-2.5 hour simulation where students visit "stores" to purchase housing, transportation, food, clothing, day care, etc. Mad City is an excellent way to introduce students to real world financial challenges in a realistic, entertaining environment. Credit union staff set up on site to help conduct this event.
Build a Budget Workshop - similar to Mad City, but presented in a condensed format. Students receive an occupation and monthly salary, then create a budget based on expenses provided by the OUCU presenter. This exercise is a great way to introduce students to money management in one class period.
Guest Speakers
OUCU representatives can visit your classroom to give presentations on a variety of topics:
Money Management
How to Write a Check
The Importance of Budgeting and Saving
Credit Scores and How to Use Credit Wisely
We'd be happy to tailor a presentation to fit the needs of your classroom curriculum!
Please contact us at marketing@oucu.org or at (740) 597-2800 about participating in any of these great programs.