Home Equity
If you're a homeowner, home equity loans & lines of credit can be one of the best ways to borrow. With these funds, you can do a variety of things including:
Pay for major remodeling projects, like a new roof or finished basement
Save money by consolidating higher-interest rate loans and credit cards
Cover expenses for education or emergencies
Home Equity Lines of Credit
A home equity line of credit is a revolving line taken out with your home's equity (appraised value minus mortgage debt) as collateral.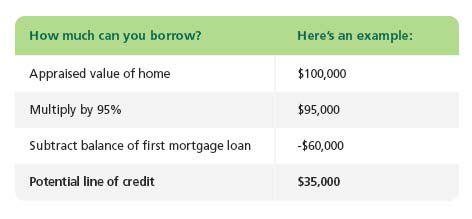 With a home equity line of credit, you'll receive a credit limit up to 95% of your home's equity* to withdraw and use as you need, when you need it, at a low variable rate!
Benefits:
No annual fee and low closing costs
Easy access through online banking
Competitive variable rates
Interest-only payment options available
Access is easy with online banking or with specially issued equity line checks.
Learn More Equity Calculator Apply Now
Home Equity Loans
Home equity loans (often called second mortgages) bear many similarities to conventional loans because they feature fixed interest rates for fixed period of time.
A home equity loan is often used for a large purchase or debt consolidation.
Benefits:
Competitive fixed rates
Borrow up to 95% of the home's loan to value*
Interest rate is determined by the amount of equity and the term
Learn More Equity Calculator Apply Now
Tools & Services