Home Equity Loan
Being a homeowner is equal parts stressful and rewarding. There's always a project to complete or something to replace. Owning a home is a never-ending cycle of spending, and sometimes you just need some help.
At OUCU Financial, we understand that, and our home equity loans could be the best way for you to borrow, enabling you to use your home's equity for what you need and deserve.
Life's biggest expenses are attainable with OUCU Financial.
What Is A Home Equity Loan?
A home equity loan is, essentially, a second mortgage. These are similar to a traditional loan because they feature a fixed rate for a set period of time. The loan amount is based on the value of your home and how much of your mortgage you still have to pay off.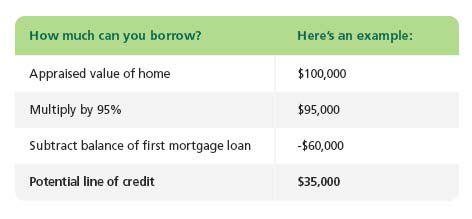 A home equity loan is often used for a large purchase, home renovations, or debt consolidation. OUCU Financial offers competitive fixed rates and terms on our home equity loans. We also allow you to borrow up to 95% of the home's loan to value. Your interest rate is determined by the amount of equity and the term. Property must be primary residence in the state of Ohio.

Home Equity Loan Rates
At OUCU Financial, we offer competitive home equity loan rates that you'll feel comfortable about. We've recently lowered our rates!
Rates are available on MortgageClick, by phone at 740-597-2801 or use this Contact Form
Apply Online today or Schedule an Appointment with our OUCU Mortgage Department.
Using Your Home's Equity To Your Advantage
If you're a homeowner, home equity loans & lines of credit can be one of the best ways to borrow. Our home equity loans open so many doors to support you and your dreams. These loans allow you to:
Pay for major remodeling projects, like a new roof or finished basement
Save money by consolidating higher-interest rate loans and credit cards
Cover expenses for education or emergencies
"OUCU is great to have an equity loan through. Thank you for your many years of service to your members!"
"We just started a home loan. We have tried other places for almost a year. You guys did it in less than 6 weeks. We are so grateful and you have done a wonderful job. Thank You!"
If you can't find what you're looking for, let our expert mortgage team lead the way. Click below to get started today.
Apply Online Schedule Appointment
Go to main navigation