South Shafer Street Branch
Secure your financial future and improve your economic well-being.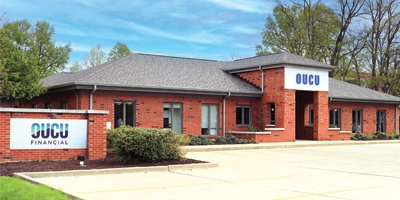 Contact Us

OUCU Financial is a financial services provider helping the community achieve its goals. Whether you need a business loan to elevate your dream to the next level, a personal loan for that much-needed vacation, or even a mortgage to purchase the home of your dreams, OUCU is always on hand.

"Very quick service, friendly, helpful staff. Used notary service too." - OUCU Member
---
Serving Your Today. Building Your Tomorrow.
Building a financially secure future is an important part in planning your next adventure, turning a house into a home, and even preparing for the inevitable. Our range of services enables you to live with peace of mind while we do what we do best.
Personal Lending
Life often presents us with situations where we need to ask for help. Our personal loans make it easy to navigate through those moments without hassles.
Personal lending solutions include:
Auto Financing
Getting from point A to B shouldn't be a hassle, especially when we're here to help. Drive away in the vehicle of your dreams with our comprehensive auto loans designed with you in mind.
Browse a variety of financing options like:
Mortgage & Home Lending
Turn your dream house into your own home with our competitive rates. Whether you're a first-time homebuyer or a seasoned veteran, we're able to guide you through the mortgage process with ease.
Home lending solutions include:
Credit Cards
Manage your loans with ease and convenience by making use of our credit card services. Life happens. Don't let it slow you down.
Credit card services include:
Investments & Financial Planning
Being prepared for life's inevitable events is a vital part in ensuring that your investments remain safe, secure, and growing as it should. At OUCU, we believe that planning and preparation along with the necessary support and guidance will enable you to make the most rewarding choices.
Let us help you advance your future with services like:
Business Banking
Starting a business is an adventure and we'd like to join you on one of the most exciting experiences of your life. Our business loans and services offer accessibility, convenience, and support as you need it. You don't have to build your business alone.
Our business banking services include:
---
Secure Your Financial Future
OUCU Financial, E. State St offers a wide range of services, whether for personal, business, or investment purposes. As a credit union, we work for you in order to achieve your financial goals. Becoming a member of OUCU means that your needs are of the highest importance, you're able to benefit from our profits through lower interest rates on loans, fewer fees, and higher rates on deposits.
We value each of our members and consider you part of our family. Starting small and growing into the what we are today, we're proud to be there when you need financial support the most.
---
OUCU Office – S. Shafer St

90 S. Shafer St.

Athens, OH 45701

Call us: (740) 597-2800 or 1(800) 562-8420

ATM Type: Drive-Up - Accept Deposits

LOBBY HOURS:

Monday 9:00 a.m. – 5:00 p.m.

Tuesday 9:00 a.m. – 5:00 p.m.

Wednesday 9:00 a.m. – 5:00 p.m.

Thursday 9:00 a.m. – 5:00 p.m.

Friday 9:00 a.m. – 5:00 p.m.

Saturday CLOSED

Sunday CLOSED

DRIVE THRU HOURS:

Monday 9:00 a.m. – 5:00 p.m.

Tuesday 9:00 a.m. – 5:00 p.m.

Wednesday 9:00 a.m. – 5:00 p.m.

Thursday 9:00 a.m. – 5:00 p.m.

Friday 9:00 a.m. – 5:00 p.m.

Saturday CLOSED

Sunday CLOSED
Invest In Your Financial Future
With OUCU, you don't have to worry about the well-being of your investments. Whether you're interested in building your savings, embarking on life's unexpected journeys, or you simply feel the need to plan for your future, making a positive change in the community is what we do best.
"My recent experience at OUCU for opening a new account was flawless from start to finish. I cannot express enough how professional, friendly, helpful, and knowledgeable staff was to me during this time. The service at OUCU is fabulous! Thank you." - OUCU Member
Go to main navigation